Origin
2001 24 min 16mm/Remastered in HD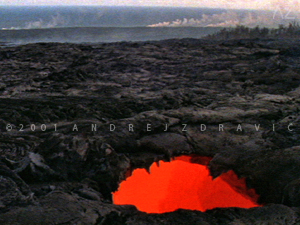 In Origin we witness the birth of new land. It is an experience of the primordial antagonism of fire and water as lava meets the sea, and a meditation on the energies that have shaped and continue to shape our planet. The battle of lava and the sea lasts for days and nights on end, breathing in a mysterious rhythm and speaking of another dimension, long-forgotten by man, the conflict of opposing elements creating a hypnotic symphony of eons past.
Origin confronts us with elements far greater than us, awakening the archetypal memory of the very beginning of life.  
The film was shot in 1989 at Wahaula on the island of Hawaii, Volcanoes National Park. Expedition assistance and additional sound recording by Naomi Sodetani; eruption site guide: John I. Kjargaard. (Some of this material was previously incorporated in my film Ocean Beat (1990), and in the installation Ocean Lava - Time Horizon, 1999).
AZ, 2001

Listen to Origin soundtrack  I  31 sec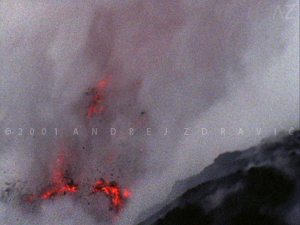 "The cycle at the Audtiorium (Le Louvre) also gives ample space to eruptions whose terrifying splendour is recreated on camera. As in the film of Andrej Zdravic, Origin, a fascinating pictorial and sonorous composition on the fusion of water and fire that engenders in the viewer a vivid experience of a world in gestation." 
Emanuel Chicon, l'Humanité, France, 2003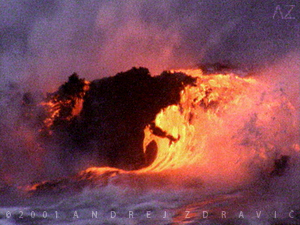 "I carry the memory of the volcano footage with me and think of it with great pleasure. I thought it was, as usual, pitched at an almost ecstatic level of concentration, a kind of visionary moment... that keeps reminding me of Wordsworth and Shelley in its ability to confront and describe a Nature that is both magnificent and mysterious without ever reducing the size of what you see to the ordinary, the banal, or the sentimental." 
Dick Blau, photographer, Film Department chair, University of Wisconsin, 1983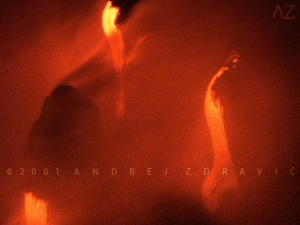 "Andrej Zdravič decides to explore a subject, puts his camera in a place few of us would ever dare to go... and observes. What he captures is in a word "mind-bending". Whether it's a series of paper bags spinning in circles down Manhattan streets (Breath), an operating room from the 1970's (Phenix) or a lava flow, this director makes us see and feel things that may or may not be present in the image or sound. It's those connections that interests him. Your feelings - what you felt, saw and experienced. It's film theory of the highest order, made palatable to a wide audience. Origin is a 24-minute film in which we watch the world unfold before our eyes. The struggle of lava flow as the Pacific Ocean crashes in to wipe out what was there only seconds ago, takes on a terrifying angle as powerful as any part of "Saving Private Ryan". I could not take my eyes off the screen and I am still dealing with what I 'saw'. The only reason Nike, Coke and Hollywood haven't snapped up this maniac is because he won't let them." 
John Fucile, producer, New York, 2001

☛ See Origin projected in public space in New Delhi