Anastomosis
1982 57 min sound 16mm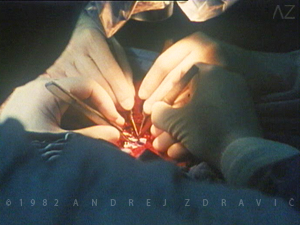 Anastomosis is the result of my two-year collaboration with Dr. Harry J. Buncke, 'the Father of Microsurgery' in the US - we produced a number of films for the medical profession at Davies Medical Center, San Francisco (see Documentary and Scientific Films).
Created with a larger audience in mind, Anastomosis aims to establish a relationship between the fascinating and delicate microsurgeon's work and the larger fabric of everyday life. It is a film about the human hand, the inner beauty of the hand as revealed by microsurgeons, and the hand as a magnificent instrument which essentially determines our careers, play, and our very relation to the world.
The term 'anastomosis' comes from the Greek language ('stoma' is mouth) and connotes the establishment of intercommunication between two openings. In microsurgery, 'anastomosis' is the reconnection of two blood vessels, thus re-establishing the blood flow - the fundamental prerequisite for a transplant to survive.
I made the Anastomosis soundtrack elements with analog sythesis equipment courtesy of Woody Vasulka and Steina, Santa Fe, NM. 
AZ, 1982

Honorable Mention: Thomas Edison Black Maria Film Festival, 1983

Listen to Anastomosis soundtrack  I  27 sec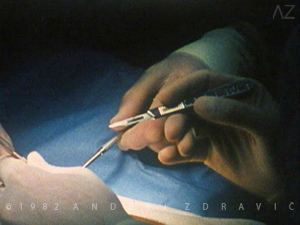 "Andrej Zdravič's Anastomosis is a brave and necessary film, an original and personal treatment of a specialized medical subject. Rather than offer a lecture- type narrative, Zdravič gives us a compelling and triumphant mixture of humanism and science - at last! - by means of his artful, lyrical camera; his own soundtrack consisting of both personal testimony and heart and blood vessel sounds amplified; and his unforgettable transitions to the larger areas of healing and the natural world. Anastomosis is one of those rare gripping documents of our day (parts of Brakhage's 'Pittsburgh Trilogy' come to mind) that challenges us to see our own absolute physical nature and leaves us blessed, humble and grateful."
Gordon Ball, poet and filmmaker, San Francsico, 1983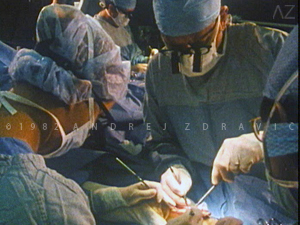 "As I watched this film, I kept thinking of Thomas Eakins' 'Gross and Agnew Clinics'. Like those paintings which record major events in the history of medicine, Andrej Zdravič's Anastomosis also celebrates an intervention. In Zdravič's film we see imagination reconstitute nature through technology. The process is complicated: cruel yet caring, beautiful and grotesque. The result - a hand, let us say, whose missing thumb is now a toe - is at one and the same time magnificent in its recovered grace and monstrous in its form. Looking at such an image, we must question all 'natural' sentiment and aesthetic 'given', for Zdravič's film has shown us the deeper beauties of imperfection."
Dick Blau, photographer, Film Department chair, University of Wisconsin, Milwaukee, 1983