http://surfscooter.com/?maska=app-para-conocer-solteros&898=b4 http://ecapguatemala.org.gt/poioe/9013 Breath
1976 8 min sound 16mm b&w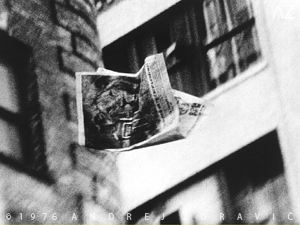 http://www.mylifept.com/?refriwerator=bin%C3%A4re-optionen-apple&55c=79 The flying newspapers seemed to behold in their movements all the nuances of a life full of energy and thrill as well as loneliness. I spent many months stalking the empty streets of lower Manhattan looking for my 'friends', only to find them at times sadly lingering in the windless gutters, and at others, run over by traffic, and still others, soaring with a youthful joy towards the sky - in spite of it all. So in retrospect, Breath could perhaps be seen as a diary of life in New York City.
sitios de citas para gordos The filming of Breath was made possible thanks to a free 16mm camera loan by the Center for Media Study/Buffalo - Gerald O'Grady, Head (see Links).
here AZ, 1996

Listen to Breath soundtrack  I  27 sec
sites de rencontres seniors france australian speed dating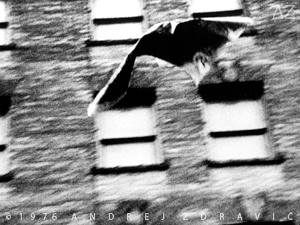 "Though only a few of Zdravič's numerous films deal with his father in surgery, the exalted attention to which he referred as 'heightened state' characterizes the spirit of his work. Exposure to surgery strengthened in him an exuberant reverence for life - he mentioned having been inculcated with his father's sense of the 'healer's aspect' - that infuses even the most minor of Zdravič's works. It gives, for example, to Breath, an eight-minute odyssey of a scrap of newspaper blowing around deserted Manhattan streets, an energy and vision far beyond its ostensible subject. If an inanimate piece of street trash can be said to show the spirit of Charlie Chaplin's 'Little Tramp', this is it."
rencontre amoureuse tournai Calvin Ahlgren, San Francisco Chronicle, 1991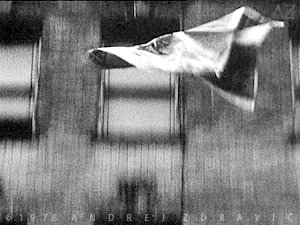 "Breath consists of nothing more than shots of a newspaper blowing in the wind of empty New York Streets. But Zdravič doesn't treat this subject with the wispy lyricism of Brakhage or Marie Menken. The newspaper is just a newspaper - a 'found object' à la Duchamp. The soundtrack, as in all Zdravič's films, was recorded on the spot... making for musique concrète accompaniment."
racial preference in dating David Ehrenstein, Los Angeles Herald Examiner, 1980

"Andrej Zdravič… gives promise of being a real filmmaker. What is most striking about his work right now is a vivid sense of how the frame of the screen traps - and thus compresses and heightens - the energy of movement. And there's a converse awareness of the ephemerality of his image-subjects which are destroyed and remade in movement."
hombre al agua solo tab Amy Taubin, Soho Weekly News, New York, 1977